HKS Super Oil Premium 10W40 Full Synthetic Engine Oil
SUPER OIL Premium 10W40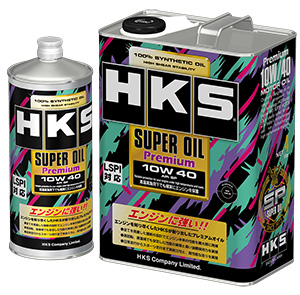 Reliable engine protection even under the high-temperature, high-engine load
Compatible with a stock grade #W 40
Allowable maximum temperature (High): 140℃
100% SYNTHETIC
Conforming to API SP standard
Protection against LSPI
Volume: 1L, 4L, 20L
◆What is the API SP standard?
The latest oil categories set in 2020 by API (American Petroleum Institute).
Heat resistance, cleaning, and fuel economy performances are improved compared to the SN standard due to new engine tests.
API SP further defines suppressing the LSPI which tends to occurs in vehicles that have downsized direct-injection turbocharged engines and preventing chain wear.
| | | | | |
| --- | --- | --- | --- | --- |
| SUPER OIL Premium API SP | 100% SYNTHETIC | 10W 40 API SP | 1L | 52001-AK141 |
| | | | 4L | 52001-AK142 |
| | | | 20L | 52001-AK143 |